The UC Noyce Initiative's mission is to advance research collaborations in critical areas of digital technology and innovation to drive informed, ethical and timely discovery for the public good. It brings together researchers from five UC campuses Berkeley, Davis, Irvine, San Francisco, and Santa Barbara by building community and awarding competitive grants focused in these key areas:
Upcoming UC Noyce Initiative Event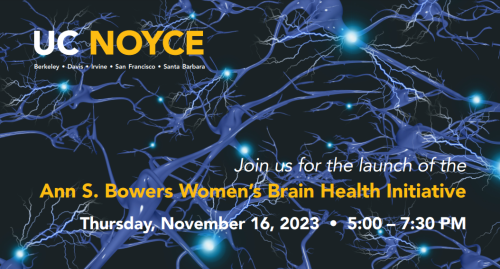 Women's Brain Health Initiative Launch
This event will highlight the latest research innovations and collaborations happening at The Ann S. Bowers Women's Brain Health Initiative, which is a UC Noyce Initiative-supported consortium designed to accelerate the pace of discovery for women's health. 
A Visionary Foundation
The UC Noyce Initiative is focused on honoring and continuing the legacy of Robert N. Noyce, Ph.D., world-renowned physicist, inventor of the microchip and co-founder of Intel. Inspired by Noyce's visionary legacy of innovation and funded by gracious donations from Ann S. Bowers on behalf of the Robert N. Noyce Trust, the UC Noyce Initiative is driving collaboration in digital innovation for the public good. Learn more about the legacy of Robert N. Noyce.
The Power of Five
The power and potential of the UC Noyce Initiative lies in our cooperative spirit. Together, we are driving discovery around the most pressing challenges and exciting opportunities in digital innovation. Learn more about the Power of Five.